UW-Radiology's long tradition of innovation continued at recent annual meetings across the country. In addition to giving talks, serving as panelists, presenting abstracts and exhibits, and leading hands-on courses and workshops, Department faculty and trainees were recognized as leaders in their field.  
The 2023 meeting of the Society of Abdominal Radiology (SAR) took place from Sunday, February 26 to Thursday, March 2 in Austin, Texas. 
• Meghan Lubner, MD was named the 2023 SAR Igor Laufer Visiting Professor. This professorship is awarded each year to an outstanding academic radiologist. Other Department members have previously received this honor: David Kim, MD (2020-2021) and Perry J. Pickhardt, MD (2012-2013).  
• Scott Mauch, MD, an Abdominal Imaging and Intervention Fellow, received the Best Power Science Award for his talk, "MR Imaging Characteristics Post Histotripsy Treatment in the Liver." 
The 2023 meeting of the Society of Thoracic Radiology (STR) was in Charleston, South Carolina from March 5 to March 8.  
• Carolina McShane, MD, a first-year resident in the Diagnostic Radiology Program, Maria Daniela Martin Rother, MD, Brian Mullan, MD, Cristopher Meyer, MD, and Jeffrey Kanne, MD received the Cum Laude Poster Award at the 2023 meeting for their poster, "Caution! Lung "Fields" Ahead: Thoracic Imaging in an Agricultural Setting." 
In Phoenix, Arizona, still more Department members received awards at the 2023 Society for Interventional Radiology (SIR) meeting from March 4 to March 9. 
• Joseph Whitehead, MS, a Graduate Research Assistant in the Department of Medical Physics, received the Featured Abstract award for his work, "Interleaved Angiography for Simultaneous Acquisition of Vessel Morphology and Blood Velocity Quantification." His work is co-authored by Martin Wagner, PhD and Paul Laeseke, MD, PhD. 
• Joseph Whitehead and Grace Minesinger, a Graduate Research Assistant in the Department of Medical Physics, were named recipients of the SIR Foundation Research Scientist Award. This award recognizes their work's potential to impact the practice of IR. Minesinger's project, "Mobile C-arm Guided Histotripsy: Assessment of Image Quality in an In Vivo Porcine Model," is co-authored by Martin Wagner, PhD, Timothy Ziemlewicz, MD, Paul Laeseke, MD, PhD and Fred Lee, Jr., MD. 
• Katrina Falk, an MD/PhD student working under Paul Laeseke, MD, PhD, was selected to be one of the SIR 2023 Medical Student Scholars.
In Savannah, Georgia, the Society for Skeletal Radiology (SSR) meeting took place from March 12 to March 15. Under the leadership of Donna Blankenbaker, MD, the President of SSR, continued its dedication to promoting academic excellence through presentations on education, wellness, and beyond. 
• Rianne van der Heijden, MD, PhD received the 2023 SSR Seed Grant Research Award for her work "Radio-manganese PET/MR and shear wave elastography as potential imaging biomarkers in patients with myofascial pain." Sandip Biswal, MD and Kenneth Lee, MD are collaborators on the project.
• Jade Anderson, MD, a Musculoskeletal Imaging Fellow, presented Case of the Day #6 on March 14.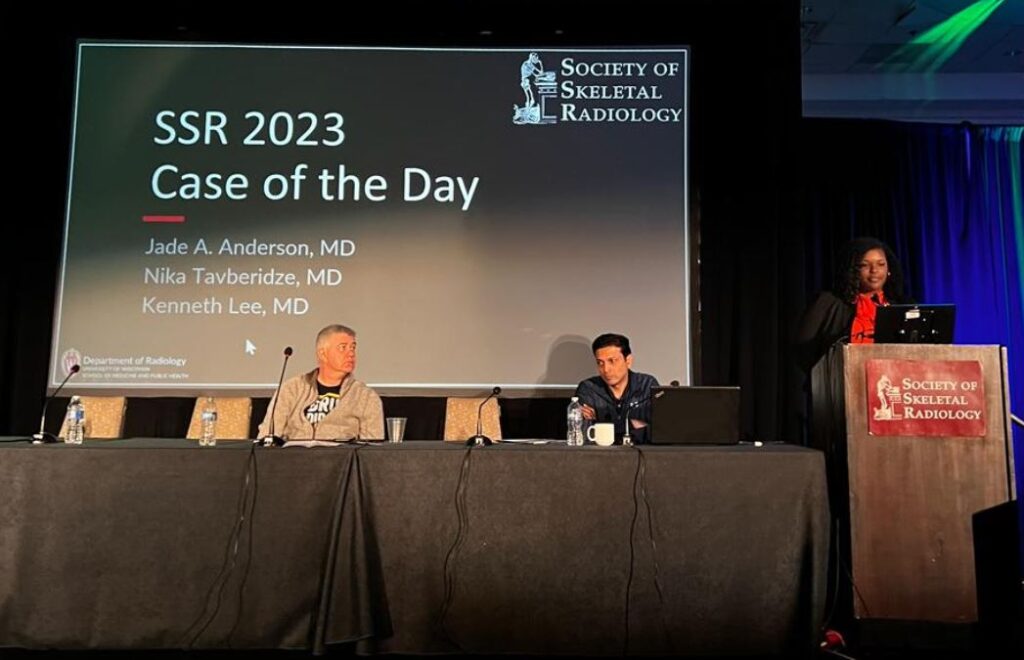 These accolades evidence the Department's commitment to supporting leaders in radiology and fostering the next generation of innovators in the field.