On Wednesday, August 30, 2023, Senator Tammy Baldwin visited the Wisconsin Institutes for Medical Research (WIMR) on the University of Wisconsin-Madison's campus. In her tour of the facilities, she visited the UW–Madison Cyclotron lab, Radiopharmaceutical Production Facility, WIMR PET Imaging Center, and the Photon Counting CT Scanner.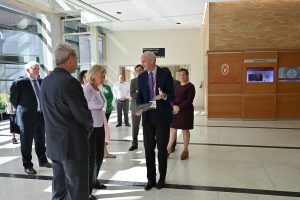 This visit is part of an effort to highlight UW-Madison's part in a new statewide biohealth consortium which was announced earlier this month by the Wisconsin Economic Development Corporation (WEDC). The consortium of 15 private and public partners  aims to advance an economic development strategy for bolstering Wisconsin's leadership in personalized medicine and biohealth technology. By bringing together leaders in higher education, technology, and health care, the consortium also aims to earn a Regional Tech Hub designation for the state of Wisconsin. 
The federal economic administration will select at least 20 regions for Tech Hub designation, a selection which recognizes the potential for rapid technology-led economic growth. In this first phase, a Tech Hub designation provides access to at least $50 million in federal funds. At least 5 of these regions will be chosen for further "implementation" funding of up to $75 million each.  
The consortium has proposed using the Tech Hub funding to improve personalized medicine, an emerging medical approach that tailors health care based on each patient's genes. 
"Economic development is really about injecting resources into something that's already happening," says Missy Hughes, the WEDC Secretary and CEO, in an article published by UW-Madison's Office of Federal Relations. "Where we have this organic opportunity arising because of our industry and our universities, we can knit together efforts to help entrepreneurs or to do more workforce training and to do more research."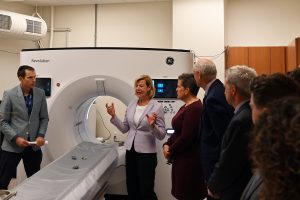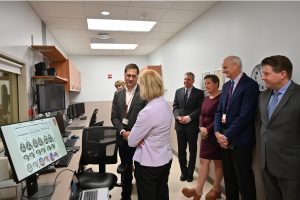 Secretary Hughes accompanied Senator Baldwin on the tour, which was led by members of the Departments of Radiology and Medical Physics. Each of the tour's stops highlighted the exceptional facilities and technology in WIMR that facilitate the cutting-edge research that takes place there. The group included Dr. Grist and Frank Korosec, PhD, who described the mission of the Department and provided context for the many innovative programs housed in WIMR. Todd Barnhart, PhD and Jason Mixdorf, PhD, both members of the Cyclotron Research Group, led the tour of WIMR's PETtrace cyclotron. James White guided the group through the Ablation Laboratory. Two members of the Radiopharmaceutical Production Facility, Scott Knishka and Jeannine Batterton, explained the facility's role in producing the radiopharmaceutical agents necessary for translational clinical research and human clinical use. Alan McMillan, PhD, Diego Hernando, PhD, and Tim Szczykutowicz, PhD presented the PET/MR, MRI, and photon counting CT scanners, respectively.
"The tech hub designation and the funding would allow us to scale (research) up further and have more of an impact on the workforce in Wisconsin," said Dr. Grist to the Capital Times. "It could really create a magnet to the area." 
Senator Baldwin will be lobbying the Biden administration to select Wisconsin, with the Economic Development Administration expected to announce the chosen Tech Hubs this fall. 
Senator Baldwin's visit to WIMR was covered by the Capital Times, NBC15, and WKOW27. We are honored to have hosted the senator and thrilled to highlight our role as a leader in personalized medicine and biohealth technology.