A monthly dinner and speaker series hosted by the Office of Multicultural Affairs (OMA) brings in a diverse array of accomplished faculty to share stories of their paths to medicine. In addition to encouraging diversity and inclusivity, the speaker series also creates the opportunity for medical students and faculty to form connections. 
Three faculty members from the Department of Radiology – Anand Narayan, MD, PhD, Mai Elezaby, MD, and Erica Knavel Koepsel, MD – were invited during the 2022-23 season. 
Anand Narayan (January 25, 2023) 
Dr. Narayan grew up in Baltimore as the son of immigrant parents from India with a large extended family living on the East Coast. From the experiences of his mother, grandmother, and other female relatives, he gained a strong sense of gender equity even when he was young. 
"I think those values have really informed my interest in DEI," says Dr. Narayan. As a freshman in college, he took a job working in mammography outreach in South Dakota. The position used telemammography to offer services to indigenous communities. 
"I really liked the idea of having a career that combined mammography and public health," he says. Throughout his training, he remained engaged in advocacy. That passion – and his exposure to patients presenting with advanced breast cancers – encouraged him to pursue a career in breast imaging to reduce preventable deaths from breast cancer. He aims to address health disparities in breast imaging and treatment of breast cancer as well as furthering diversity and inclusion efforts in healthcare. 
Dr. Narayan believes that being a clinician has only amplified his power to affect change in policy. "I can talk about patients that I've seen in our center," says Dr. Narayan. "I think people underestimate the impact and the power that has."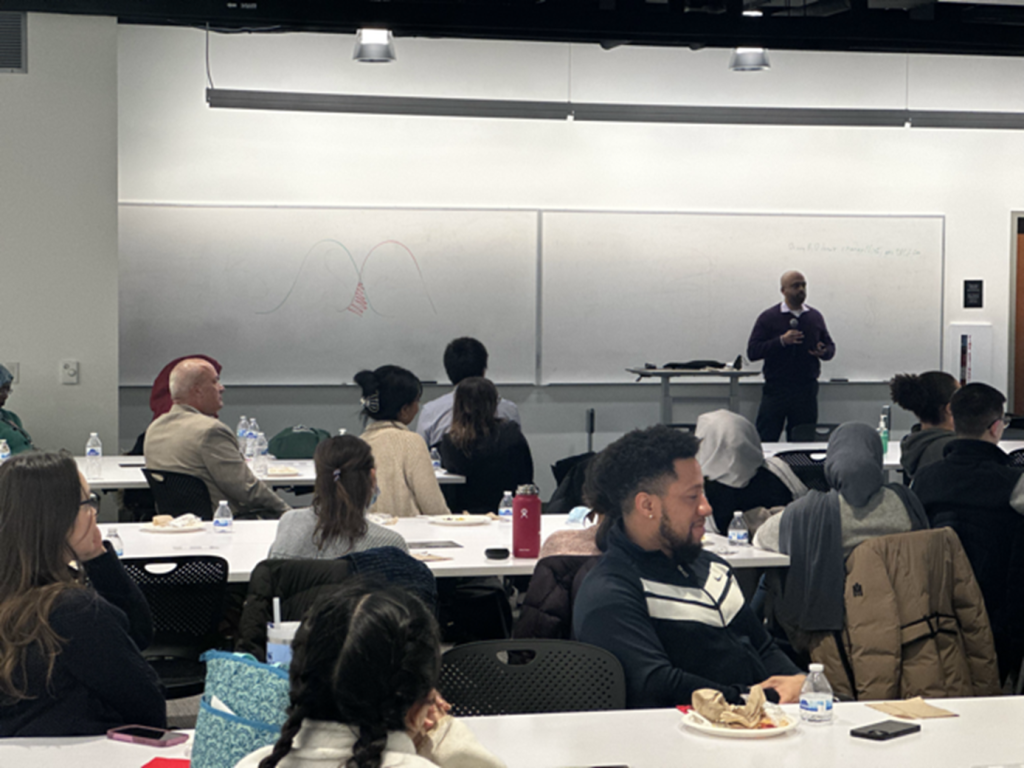 Mai Elezaby (February 15, 2023) 
Dr. Elezaby's career trajectory is unique: She was a foreign medical graduate who completed her training in Egypt. While she realizes her experiences may not resonate with all trainees, she hopes that sharing her story will create camaraderie and encourage students to reach out to her or other faculty for support or mentorship. 
"You get to share with them that it's okay that it's hard, and it's okay to struggle," says Dr. Elezaby. "That's probably the same message I would tell my younger self." 
Now, as the assistant program director for residency education, she hopes to share knowledge that will improve radiology services in low-resource settings around the world. During her talk, she placed special emphasis on importance of perseverance and keeping an open mind to all opportunities. She also encouraged the audience members to find a community and support system to weather difficult times.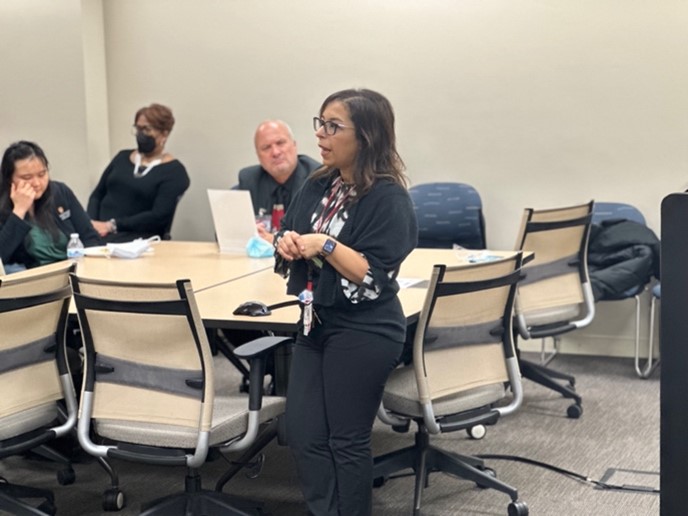 Erica Knavel Koepsel (March 29, 2023) 
Dr. Knavel Koepsel began her talk by describing one of her major role models: Her grandfather, who was a physician in the Dominican Republic. He was forced to flee when his life was threatened due to the work his political party was doing to improve health care. Dr. Knavel Koepsel grew up in his clinic in Milwaukee. 
"My grandfather was exceptional," says Dr. Knavel Koepsel. "He practiced in underserved communities until he was 80 years old. He did not only treat their medical needs – he collected diapers, food and clothing for them." 
His influence would permeate her later career. While she knew she wanted to be a doctor, she did not get into medical school right away. Instead, she spent time volunteering at a free clinic and at the Children's Hospital of Wisconsin, in addition to completing a postgraduate program and working at a physician's office. 
When she started at UW, she became interested in Radiology through several research projects being done by Fred Lee, MD and with physicians at the Mayo Clinic. During her residency in Diagnostic Radiology at UW, she was the first female Chief Resident. She went on to be the first female IR Fellow at UW-Madison. 
When she returned as a faculty member in 2021, she started the Interventional MRI program. Her inspiring story encourages the students to be resilient and not let anything get in the way. 
She advises trainees to enjoy the journey: "While it is not always a straight line, important lessons will be learned, and unique experiences will shape you along the way." 
We are proud to highlight the contributions of these exceptional faculty members to the 2022-23 speaker series. Creating a diverse and inclusive environment for medical students doesn't just promote the success of current students. It also demonstrates to new recruits that our Department actively implements initiatives to advance diversity, equity and inclusion.