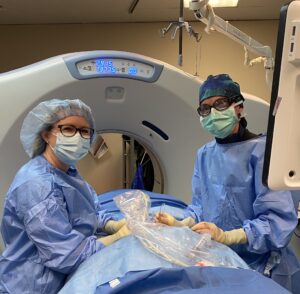 Lindsay Stratchko, DO joined the UW Department of Radiology last year with a unique skill set. She completed fellowships in both Musculoskeletal Imaging and Interventional Radiology. Since joining us, she has served as the Director of Musculoskeletal Interventional Oncology for the Department.  
In this program, Stratchko and her team use ablation techniques to treat metastatic disease involving bone and soft tissue. She continues, "The goals of treatment are either to cure a patient of limited metastatic disease or to improve patient quality of life by decreasing cancer-related pain and fracture risk. We have been working to expand these procedures, so patients can have improved mobility and remain out of the hospital for pain management. We feel it is important to optimize palliative therapies for patients as they play a valuable role in comprehensive cancer care."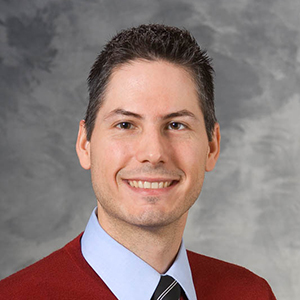 Dr. Stratchko credits Humberto Rosas, MD for founding the MSK ablation program.  In 2007, Dr. Rosas created one of the first MSK ablation programs in the United States here at UW-Madison, but he acknowledges Fred Lee, MD and Kirkland Davis, MD for laying the groundwork for the program. Dr. Rosas said, "Dr. Fred Lee built a robust ablation program that centered on treating kidney, liver, and lung lesions. That provided the infrastructure for the MSK program to start as we already had all the resources available – equipment, nursing staff, pre- and post-recovery areas, etc. Without his hard work and dedication, I do not think our program would be where it is today. Dr. Kirkland Davis performed a few bone ablations prior to me joining the faculty at UW which was invaluable in starting a more defined program."
The University of Wisconsin – Madison is still one of the few hospitals to offer bone & soft tissue ablation procedures in the country. Dr. Stratchko hopes to change that by teaching these procedures to trainees in the hope that they can bring their knowledge and exposure to their future workplaces. It's no wonder why Dr. Stratchko was awarded 2022 Resident's Award for Best Faculty Teaching. Dr. Rosas added, "Dr. Stratchko not only has exceptional technical skills, but more importantly she is empathetic and kind. Her work collaborating with the Oncology, Orthopedic, and Neurosurgical Departments as well as her drive in pushing newer technologies forward is why UW will remain one of the leaders in cancer care. We were fortunate to have recruited her and have her as the Director of the MSK Ablation service." 
In addition to her clinical work, Dr. Stratchko has been busy presenting on the topic of MSK ablation in national meetings, such as the Society of Interventional Oncology, the Society of Interventional Radiology, and the Western Angiographic & Interventional Society. She also serves on national committees, including the National Comprehensive Cancer Network and Society of Interventional Radiology Standards Committee, to help increase awareness so that more patients may benefit from these effective therapies. 
Dr. Stratchko concluded, "We've had the opportunity to collaborate with our medical, surgical, and radiation oncologists to expand this program that helps patients during challenging times in the course of their treatment, which has been a truly rewarding experience."