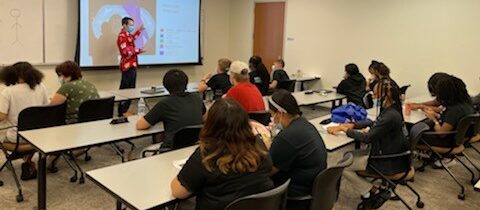 Tim Szczykutowicz, PhD, Ivan Rosado-Mendez, PhD, Lori Mankowski Gettle, MD, MBA, and James White, Research Specialist organized and presented at the 2022 Urban League UW Radiology/Medical Physics/Biomedical Engineering Field Trip. The purpose of the field trip is to expose middle schoolers from underrepresented backgrounds to radiology, medical physics, and biomedical engineering at an early age.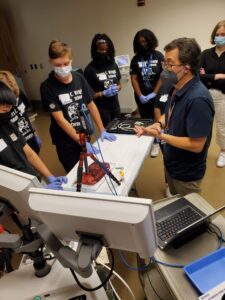 The day started bright and early with introductions and Dr. Szczykutowicz's hands-on presentation, Medical Physics 101. In this activity, the young scholars pair imaging modalities with what is best for various clinical issues. Participants then headed to three 30-minute lectures. Drs. Mankowski Gettle and Rosado-Mendez led the first lecture, where they demonstrated ultrasound techniques. The second focused on computed tomography (CT) demonstration, led by Dr. Brian Nett, a principal scientist at GE Healthcare. The third lecture showed an ablation demonstration by James White and Meridith Kisting, Research Intern.
Lastly, Dr. Szczykutowicz finished the day with a session called, "Kill That Tumor!" where the young scholars brainstormed ideas on how to eliminate tumors inside the human body. Later in the session, the scholars participated in a hands-on radiation therapy simulation activity. 
There were many people who helped make this field trip successful, including the following: Sara John, Zita Brown, Joe Whitehead, Ethan Nicolau, Annie Zlevor, Scott Mauch, MD, Hayley Whitson, PhD candidate, Jim Zagzebski, and Lukas Versaggi. 
Thank you to the team for putting on an amazing field trip for the young scholars at the Madison Urban League!