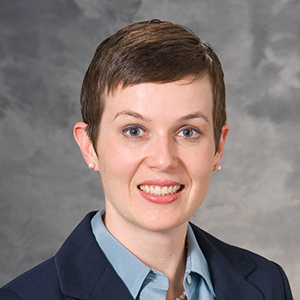 For the past six years, Meghan Lubner, MD has served on the leadership of the Medical Board of the University of Wisconsin Hospitals and Clinics. "I agreed to go on the ballot but did not think I would be elected," Dr. Lubner stated. However, Dr. Lubner was indeed elected and has served consecutive roles within the leadership of the Hospital before serving as its President of Medical Staff. 
The journey to the presidency of the board is a six-year commitment. This elected position starts as Secretary/Treasurer for two years and chairs the Medical Records Committee. Then, the next two years, one serves as Vice President and chairs the Credentials Committee. Finally, the person serves as President and chairs the Medical Board for two years. "It has been a challenging and rewarding position," Dr. Lubner noted. 
In terms of her duties, Dr. Lubner said, "We review all the minutes for UWHC committees, new delegation protocols, credentialing, and leadership report at monthly meetings.  We deal with issues that arise around clinical policies, or other medical staff issues that may be related to professionalism or competence. We review the bylaws on an annual basis, and I also serve as a liaison to the UW Authority Board and sit on the Patient Safety Committee. We solicit suggestions from medical staff regarding process, policies, etc.  We also help on Joint Commission visits during the leadership sessions." 
Reflecting on her experience in hospital leadership, she said, "I think that UW health providers have a good handle on the issues that arise in the day-to-day workflow of running the hospital, the potential impact of decisions made on both staff and patients, and a profound investment in hospital performance and patient outcomes. It has really been a privilege to work with such a thoughtful, committed, engaged, responsible, and remarkable group of UW health providers." 
We appreciate Dr. Meghan Lubner's service to the University of Wisconsin Hospitals and her fantastic representation of the Department of Radiology!