The annual Radiological Society of North America (RSNA) meeting is the world's largest radiology conference. Due to public health and safety concerns over COVID-19, RSNA 2020 transitioned to a virtual format. However, this did not stop an audience of 29, 339 people from attending the meeting. RSNA 2020, which was live from Sunday, November 29th through Saturday, December 5th, had attendees from 134 countries, with approximately 40% of professional registrants from countries outside of North America. This year's meeting theme, "Human Insight/Visionary Medicine", focused on RSNA's commitment to diversity, equity, and inclusion in healthcare. It also highlighted the latest developments in COVID-19 research and artificial intelligence (AI) applications.
The UW Department of Radiology was heavily involved in this year's meeting, with faculty members participating in poster presentations, giving lectures, and winning awards. Many of the electronic exhibits that faculty presented were collaborative with faculty from other institutions around the country. These collaborations created quality presentations, many of which won awards.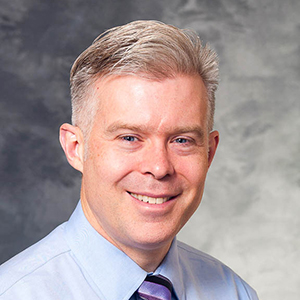 Starting off the awards list is Professor Scott B Reeder, MD, PhD who received the Honored Educator Award. This award is given to leaders invested in furthering the profession of radiology by delivering high-quality educational content in their respective field of study.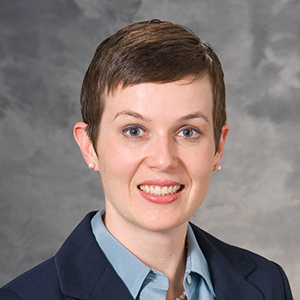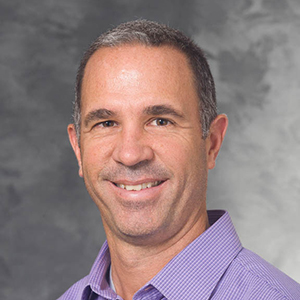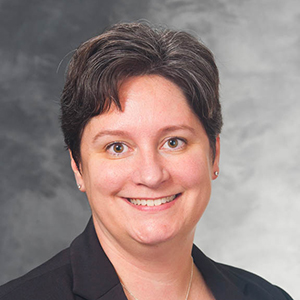 Professor Meghan G Lubner, MD received numerous awards for her presentations at RSNA 2020. Dr. Lubner and Professor Perry J Pickhardt, MD were selected as Magna Cum Laude award winners for their electronic exhibit contribution, Mucin-Producing Cystic Hepatobiliary Neoplasms. Dr. Lubner also took home two Cum Laude awards for her electronic exhibits, one for Gastrointestinal Manifestations of Immunodeficiency, and one for her collaboration with Assistant Professor Lori Mankowski Gettle, MD, MBA, titled Evaluation of Pancreas Transplants.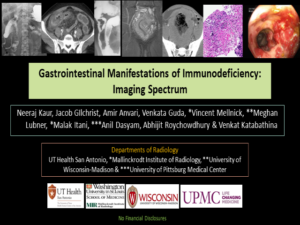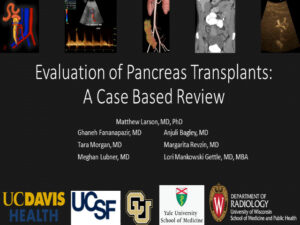 Assistant Professor Joanna Kusmirek, MD; Associate Professor Steve Y Cho, MD; Clinical Assistant Professor Nevein Ibrahim, MD; Associate Professor Alan B McMillan, PhD and Professor Elizabeth Sadowski, MD, received the Cum Laude award for their NM105-ED-X education exhibit: Pearls and Pitfalls in Assessment of Gynecological Malignancies on 18F-FDG PET/MRI. Professor Mark A Kliewer, MD, MHSc took home a Cum Laude award for his exhibit presentation, How to Read Abdominal CT. In addition to these awards, numerous faculty members received Certificates of Merit for their electronic exhibit contributions, which can be seen at the end of this article.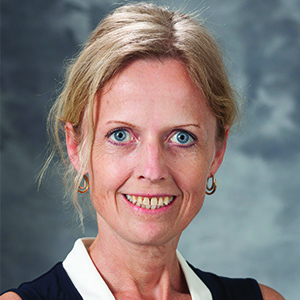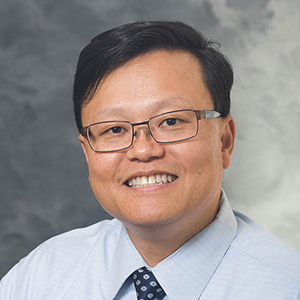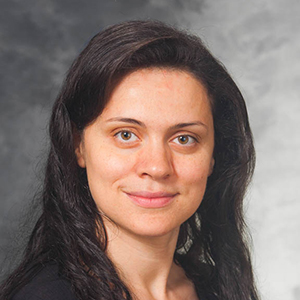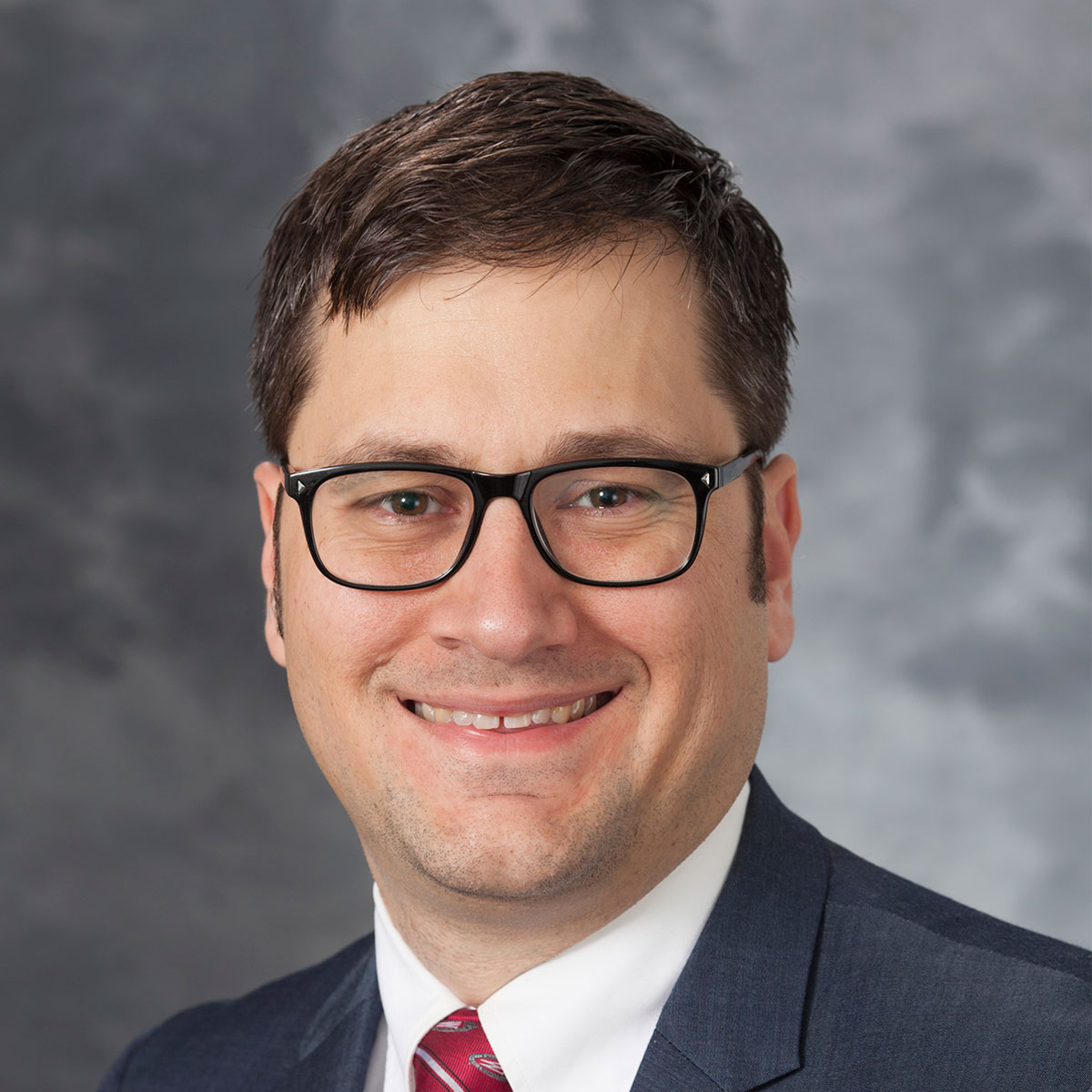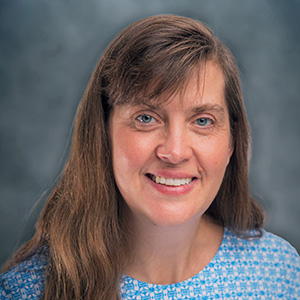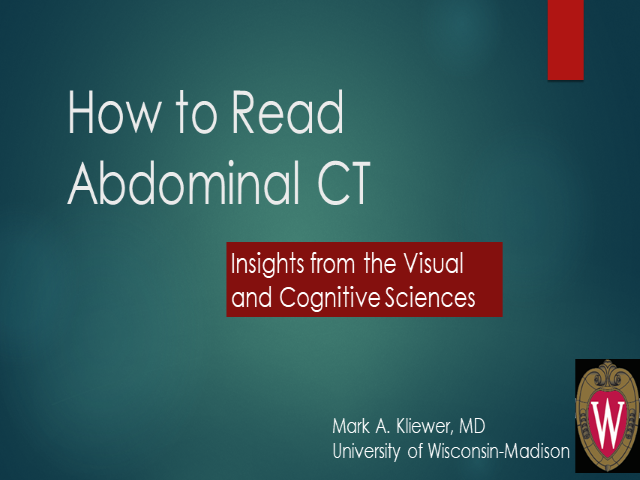 It was not just the faculty that were recognized for their excellence. Resident Ece Meram, MD, received the Philips/RSNA Research Resident Grant for her work, A Quantitative Angiographic Technique for Characterizing Flow Through Normal and Stenotic Iliofemoral Arteries. Neuroradiology Fellow Thomas Reher, MD, received the Ralph Schlaeger Charitable Foundation Research Fellow Grant for his research, Multi-compartment Diffusion Weighted Imaging Across the Lifespan in Healthy Aging and Alzheimer's Disease. Edward Lawrence, MD, PhD, a 2020 graduate from the UW Diagnostic Radiology Residency program, received the Roentgen Resident/Fellow Research Award, which recognizes residents and fellows for their contributions to the success of a radiologic research program within their department. Department of Radiology resident Kyle Lacy, MD, acted as an RSNA Resident Representative at this year's meeting. These residents help raise awareness of RSNA resources, increase resident engagement with RSNA, and encourage continued RSNA involvement beyond training.
In addition to the numerous honors bestowed upon Department of Radiology members, faculty from 10 different sections of the Department spoke at the meeting. Highlighting the lectures given by UW faculty was the plenary session featuring Professor and Radiology Department Chair Thomas M Grist, MD, FACR, and Professor Charles Mistretta, PhD. Their lecture, "Together We Can Make a Difference: Radiology/Physics Collaboration in the Development of New Imaging Techniques" focused on X-ray, MRI and CT techniques for diagnostic and interventional angiographic applications, as well as the history that led to these developments. You can read more about their presentation here. These faculty presentations covered a wide array of topics, ranging from clinical applications of research, to becoming a better educator and leader within the profession, to the relevance of AI in radiology education. A list of these faculty speakers, and the topics of their presentations, can be seen below.
Thank you to all the faculty that participated in RSNA 2020 and represented UW so well!
Awards
Honored Educator Award
Magna Cum Laude Award

Meghan G Lubner, MD and Perry J Pickhardt, MD – Mucin-Producing Cystic Hepatobiliary Neoplasms

Cum Laude Award for NM105-ED-X Education Exhibit:

Joanna Kusmirek, MD; Steve Y Cho, MD; Nevein Ibrahim, MD; Alan B McMillan, PhD; and Elizabeth Sadowski, MD – Pearls and Pitfalls in Assessment of Gynecological Malignancies on 18F-FDG PET/MRI;

Cum Laude Award

Mark A Kliewer, MD, MHSc, How to Read Abdominal CT
Meghan G Lubner, MD, Gastrointestinal Manifestations of Immunodeficiency
Meghan G Lubner, MD and Lori Mankowski Gettle, MD, MBA, Evaluation of Pancreas Transplants

Certificate of Merit

Michael C Brunner, MD, FACR, FSIR
Kirkland W Davis, MD, FACR
Jeffrey P Kanne, MD
David Kim, MD, FACR, FSAR
Kenneth S Lee, MD
Meghan G Lubner, MD
Lori Mankowski Gettle, MD, MBA
Scott Sheehan, MD
Lindsay Stratchko, DO
Resident and Fellow Awards
Resident/Fellow Research Grants and Awards

Ece Meram, MD: Philips/RSNA Research Resident Grant for A Quantitative Angiographic Technique for Characterizing Flow Through Normal and Stenotic Iliofemoral Arteries
Thomas Reher, MD: Ralph Schlaeger Charitable Foundation Research Fellow Grant for Multi-compartment Diffusion Weighted Imaging Across the Lifespan in Healthy Aging and Alzheimer's Disease
Edward Lawrence, MD, PhD: Roentgen Resident/Fellow Research Award

RSNA Resident Representative
Speakers
Gregory D Avey, MD – Optimizing Head and Neck PET/MRI
Donna G Blankenbaker, MD, FACR – Best in Show: Adult Musculoskeletal CT, A Case-Cased Imaging Review
David A Bluemke, MD, PhD, MsB – Photon Counting CT: Principles and Neuroradiology Applications; New Research that Should Impact Your Practice: From the Editors of RADIOLOGY
Guang-Hong Chen, PhD – Applications of Deep Learning in CT Image Formation
Laura Eisenmenger, MD
Thomas M Grist, MD, FACR and Charles Mistretta, PhD – Together We Can Make a Difference: Radiology/Physics Collaboration in the Development of New Imaging Techniques (Plenary Session)
Tabby A Kennedy, MD – Vision: Disease of the Orbit and Visual Pathway – Vision Loss; Turning ZZZ's to Buzz: Improving the Medical Student Radiology Rotation
Anthony Kuner, MD – A Symptom Based Approach to Head and Neck Pathology
Joanna Kusmirek, MD – Pearls and Pitfalls in Assessment of Gynecological Management on 18-FFDG PET/MRI
Kenneth S Lee, MD – Does Platelet-rich Plasma Really Work for Treating Tendon Injuries; Hip Ultrasound Demonstration
Lori Mankowski Gettle, MD, MBA – Sensitivity for Pre-treatment In-vivo Extra-prostatic Lesion Detection Using 18F-DCFPyL PSMA PET/CT and PET/MR: Multi-reader Performance of Modality/acquisition Comparison
Maria Daniela Martin, MD – Adult Small Airway CT
Cristopher Meyer, MD, FACR "Meta"
Perry J Pickhardt, MD – Best in Show: Adult Hepatobiliary Tract CT
Scott B Reeder, MD, PhD – Introduction to Academic Radiology: Practical Tips for Building a Research Career; Optimized Abdominal MRI Protocols; Pulmonary MRA; 4D Flow MRI
Jessica Robbins, MD – Dealing with Uncomfortable Bias in Your Career, Introduction to Academic Radiology; Mentoring and Coaching in Radiology: Coaching Junior Faculty: Refresher Course
Andrew Ross, MD, MPH – Ultrasound-Guided Musculoskeletal Intervention of the Upper Extremity: "Arming" You with the Knowledge to Help Your Patients; Ultrasound-Guided Musculoskeletal Interventions of the Body Wall and Core: Treating Pain with "Abs"-olute Confidence; A Multi-disciplinary Referral Pathway to Improving Secondary Fracture Prevention Post-vertebroplasty: Implementation of a Fracture Liaison Service
Andrew Ross, MD, MPH and Lori Mankowski Gettle, MD, MBA – Contrast Enhanced Ultrasound-Guided Musculoskeletal Biopsies: Our Experience and Technique
Howard A Rowley, MD – Hot Topic Session: Stroke Imaging – How Recent Trials are Changing Radiologists' Practices; Current Stroke Imaging Paradigms
Elizabeth Sadowski, MD – O-RADZ Case Review
Jonathan Swanson, MD – The Duality of Artificial Intelligence in Radiology Education
Jason W Stephenson, MD – Give Me Your Best Shot: Helping Residents and Faculty Receive Feedback; Coaching Under-represented Minorities in Radiology
Tim P Szczykutowicz, PhD, DABR – ASRT@RSNA 2020: How CT Protocols Affect Technologist Repeat Rates, Throughput, and Image Quality; CT Protocol Management Across a Healthcare System
Michael J Tuite, MD, FACR – Shoulder Imaging in Athletes
Case of the Day Presentation
Mai Elezaby, MD; Amy Fowler, MD, PhD; Pamela A Propeck, MD, FACR; Lonie Salkowski, MD, PhD, FACR; Roberta Strigel, MD, MS; Ryan Woods, MD, MPH – Breast Imaging Case of the Day
Read the full article at:
https://radiology.wisc.edu/news/rsna-2020/