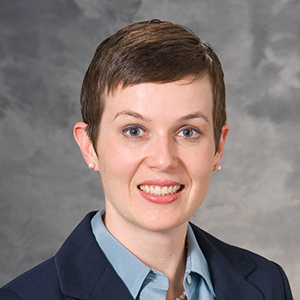 Congratulations to Meghan Lubner, MD, Associate Professor in the Department of Radiology, for receiving the American Roentgen Ray Society (ARRS) 2018 Melvin M. Figley Fellowship in Radiology Journalism. The fellowship is awarded each year to a practicing radiologist from the U.S. or Canada and offers them the opportunity to work with the American Journal of Roentgenology (AJR) to gain experience in medical journalism over the course of a year.
The Figley fellowship was first awarded in 1990. It was established, according to the ARRS, to "improve the quality of radiology journals by teaching the fundamentals of medical journalism, train manuscript reviewers and future editors, and provide core teachers of medical journalism in radiology departments around the country." The goal of the fellowship is to "stimulate bright, promising radiologists to continue with an academic career, enhance their credentials, and stimulate interest in good radiology journalism."
Figley Fellows will receive hands-on experience learning the crafts of medical writing, manuscript preparation, peer review, manuscript editing, the ethics of scientific journalism, and journal publication and printing in personal tutorials given by the AJR editors and editorial and production staff.
Several other members of the UW radiology department have participated in the program in past years including Drs. Mark Kliewer, Jeff Kanne, Donna Blankenbaker, and Perry Pickhardt, who wrote a letter in support of Dr. Lubner's application.
Read the full article at:
https://radiology.wisc.edu/news/dr-lubner-selected-for-2018-figley-fellowship/