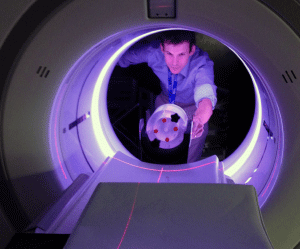 The emergency department at UW Hospital's Clinical Sciences Center received an imaging upgrade this October, when a new GE Healthcare Revolution CT scanner was installed.
The scanner incorporates imaging advances such as a wide detector array, dose reduction software, and a new user interface. These improvements will help UW provide better care, especially for patients with acute trauma or chest pain. Combined, the large detector array and rapid rotation time are expected to open new opportunities for improved cardiac imaging, perfusion assessment, and reduction of motion artifact. In addition, the scanner uses a new radiation dose reduction technology called ASIR-V.
Collectively, these incremental advances in technology are expected to significantly change how CT is performed in the acute emergency setting. While the changes are exciting, it is critical that faculty and staff in the Departments of Radiology and Medical Physics work closely together to take full advantage of the system. In fact, Medical Physics Drs. Ranallo and Szczykutowicz have been tremendously helpful in redefining how images are acquired and processed, and assisting with the acceptance testing and training of our technologist staff. The CT Protocol team, led by Myron Pozniak, M.D., will continue developing and refining new protocols to take full advantage of the scanner's capabilities.
Read more about our CT Protocol work with GE Healthcare.
Read the full article at:
https://radiology.wisc.edu/news/improved-emergency-imaging-at-the-csc/