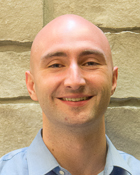 Resident Mircea Cristescu, M.D., presented a lecture on Percutaneous Microwave Ablation for Renal Angiomyolipoma (AML), as part of Resident Research Day 2014.
Renal AMLs are benign, fat-containing renal neoplasms that pose little risk unless they grow to 4 cm or greater. AMLs of such size can place the patient in jeopardy of a life threatening spontaneous hemorrhage. Surgical removal is an effective but invasive treatment for an otherwise benign condition, but current minimally invasive treatment options such as transarterial embolization have been associated with a need for retreatment or surgical resection in 16-37% of patients.
However, microwave (MW) ablation is being increasingly considered as a viable option for a minimally invasive treatment, due to its ability to devascularize and arrest growth of renal AMLs. Over a period from January 2011 to April 2014, Cristescu and the rest of the research team preformed 11 MW ablations on 7 patients, some of whom had previously undergone unsuccessful embolization.
The results of the study were remarkably promising, with no major post-procedural complications. No patients have required retreatment, and all patients have been asymptomatic with a mean follow up duration of 13 months. As for imaging metrics, there was an average reduction in tumor size of 2.9% immediately post-procedure, and a nearly 24% decrease in size at the time of a follow up measurement several months later.
Read the full article at:
https://radiology.wisc.edu/news/percutaneous-microwave-ablation-for-the-treatment-of-renal-angiomyolipoma-initial-experience/