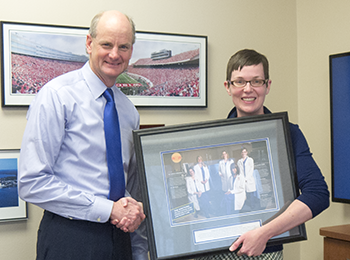 Last fall, Dr. Meghan Lubner took home a UW Health Clinical Excellence Award for Rising Star Physician Excellence. It seems, though, UW Health is not the only group to realize Dr. Lubner's star is on the rise. In January 2014, Dr. Lubner was named one of 28 "Women to Watch in 2014" by Brava magazine, a distinction held by "inspiring, innovative, and empowering women who enrich Madison."
Brava , who includes Dr. Lubner in the same class as gubernatorial candidate Mary Burke and UW Chancellor Rebecca Blank, lauded Dr. Lubner's fresh take on the field of abdominal radiology.
"It is awesome to see her recognized," said colleague and fellow UW Health Clinical Excellence Award recipient Dr. J. Louis Hinshaw.
"Meg Lubner uses minimally invasive imaging to diagnose and treat patients with liver, colon, kidney, and some lung cancers," the magazine noted. "She's part of a tumor ablation team that uses probes to insert a needle into cancerous tumors and kills cells with heat or cold."
Dr. Lubner currently serves as an Assistant Professor of Radiology in the Abdominal Imaging Section. She completed both undergraduate and medical degrees at UW, and completed her residency at the Mallinckrodt Institute of Radiology. She came back to UW to complete her fellowship, and joined the staff just five years ago, in 2009.
At this year's Radiological Society of North America (RSNA) Annual Congress, Dr. Lubner garnered 4 awards: two cum laude commendations and two certificates of merit for her work on topics ranging from microwave ablation to organ transplants. In fact, tied with Dr. Perry Pickhardt, Dr. Lubner was the faculty member who received the most awards at RSNA 2013.
"In many ways," Brava states, "[Dr. Meghan Lubner] is in the vanguard." The Department of Radiology is pleased to see that others in the community are recognizing Dr. Lubner's potential as a leader in her field.
Read the full article at:
https://radiology.wisc.edu/news/dr-meghan-lubner-named-one-of-brava-magazines-women-to-watch-in-2014/