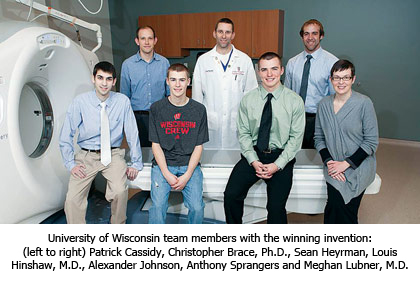 Be sure to pick up a March 2012 edition of RSNA News because this month's edition gives a shout out to Chris Brace, Ph.D., an assistant professor in the Departments of Radiology and Biomedical Engineering, and his team of UW undergraduates.
The article, entitled, "Radiologist Places Second in Collegiate Inventors Competition," recognizes Brace and his team, Patrick Cassidy, Sean Heyrman, Alex Johnson, and Anthony Sprangers, for their second-place finish in the Collegiate Inventors Competition. Radiologist collaborators on the project included UW radiologists J. Louis Hinshaw, M.D., and Meghan Lubner, M.D.
The team's winning invention, named BarrierASAP, is a unique, thermoreversible barrier used to protect healthy tissue while nearby cancer tissue is being removed. They presented their research, "Hydrodissection for Thermal Ablation: Development of Injectable Hydrogels to Increase Stability of the Insulating Layer," at RSNA 2011.
This recognition follows on the team's third-place finish in the national BMEStart competition last fall.
Congrats to all involved on this exciting media coverage!
https://radiology.wisc.edu/news/dr-braces-team-highlighted-by-rsna-news/