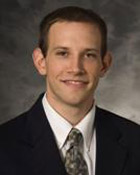 We are pleased to announce that UW Radiology's Dr. Chris Brace lead the UW-Madison BMEStart Team to a 3rd place finish at the second BMEStart national competition!
With Dr. Brace serving as Principal Investigator, the team submitted their project titled, "Thermoreversible Barrier for Hydrodissection During Ablation." Other team members included Anthony Sprangers, Alex Johnson, Patrick Cassidy, and Sean Heyrman.
According to Dr. Brace, the project originated in the BME Design course as a search for a material that could be injected through a 19-gauge needle then become more solid once inside the body to prevent migration or rapid absorption. Furthermore, the material had to be effective, biocompatible, and not interfere with imaging.
The group decided on using poloxamer 407, a thermoreversible material that is liquid at lower temperatures and gels at higher temperatures. This material is believed to be an outstanding substance for performing hydrodissection during thermal ablation or similar minimally invasive procedures.
BMEStart is a national competition sponsored by the National Collegiate Inventors and Innovators Alliance. Prizes are awarded to three teams which are selected based on technical, economic, and regulatory feasibility; contribution to human health and quality of life; technical innovation; and potential for commercialization.
The UW Madison team was awarded prize money which they plan to use to continue developing the material for preclinical testing. They will also be recognized and awarded a trophy at the 2011 Biomedical Engineering Society Meeting in Hartford, Connecticut.
Read the full article at:
https://radiology.wisc.edu/news/dr-brace-and-teams-extremely-impressive-invention-wins-3rd-place/