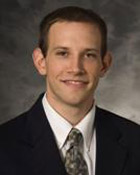 We are happy to share that Dr. Chris Brace has been named as the recipient of the University of Wisconsin-Milwaukee Graduate of the Last Decade (GOLD) Award for the College of Engineering and Applied Sciences.
The GOLD Award recognizes graduates who have achieved a measure of success in their field, bringing credit to themselves and the university. Each school or college gives one award annually.
Dr. Brace is an assistant professor in the Departments of Radiology and Biomedical Engineering. He received his BS degree in physics and BSEE from the UW-Milwaukee in 2001 and joined the UW-Madison faculty in 2009. He has written numerous papers, conference presentations, book chapters and patents on tumor ablation. His research has led to the creation of a medical start-up company, NeuWave Medical, Inc., that develops cancer therapies.
Read the full article at:
https://radiology.wisc.edu/news/dr-brace-named-graduate-of-the-last-decade/