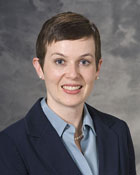 Please join us in congratulating Dr. Meghan Lubner for being selected as a recipient of the highly prestigious Association of University Radiologists GE Radiology Research Academic Fellowship Award (GERRAF)!
Each year, up to four GERRAF Fellows are selected based on their commitment to research careers, the creativity and quality of their proposed research projects, and the support provided by their institutions. The GERRAF Board of Review felt that Dr. Lubner's work, "Volumetric Tumor Measurement for Assessing Treatment Response: Too Good to RECIST?" showed outstanding credentials in all these areas. She was assisted by several talented mentors: Dr. Perry Pickhadt from Abdominal Imaging, Dr. Beth Burnside of Breast Imaging, Dr. Daniel Sullivan of Duke University, and Vikas Singh of the UW Biostatistics and Computer Sciences departments.
This highly sought-after award grants each recipient a two-year, $140,000 fellowship, paid directly to the recipient's institution for salary, education, and research support. In the past, this money has helped sponsor original clinical and health services research on decision analysis, health and economic outcome methods, and technology assessment.
Dr. Lubner joined the Abdominal Imaging Section in 2009. Her research interests include new technology in computed tomography, image guided tumor ablation, and oncologic imaging.
Great job, Dr. Lubner!
Read the full article at:
https://radiology.wisc.edu/news/dr-lubner-awarded-highly-esteemed-fellowship/